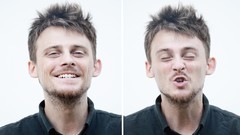 What you'll learn
Speak English words with confidence.
Use rules to guess the pronunciation of most words.
Hear the difference between words that are almost the same.
Use muscle memory to start sounding more like an American.

Requirements

A basic understanding of English vocabulary and grammar.
The ability to understand some spoken English without help (or subtitles).
Description
In this course, you will learn the pronunciation of single English sounds. We will go over both how to make the sounds and examples of those sounds in common English words and phrases. This course includes exercises for making
better English speaking habits
. The course starts with
the basics of English pronunciation
, then goes on to difficult sounds that learners often come across when learning American English pronunciation. If you work hard and practice what you learn, you will improve.
You will be able to see my face and mouth clearly in each video lesson, and I will use a blackboard at all times.
Each lesson focuses on a single idea, and each is comprehensive. You can go at your own pace and should take your time, with lots of practice between videos. Replaying each lesson is highly recommended.
Who this course is for:
Anybody who wants to speak English clearly and confidently should take this course.
This course is not for native English speakers.