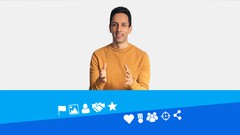 What you'll learn
Supercharge your Facebook page
Post powerful content on Facebook
Achieve more with Facebook influencers
Grow smarter with Facebook shoutouts
Get discovered on Facebook with features
Do authentic engagement hacking on Facebook
Leverage Facebook groups
Gain huge results with Facebook Ads
Maximise the network effect
Requirements
A Facebook account, and a basic understanding of how Facebook works
Description
Welcome to my Facebook course that will teach you the
10 most powerful Facebook marketing strategies
that entrepreneurs, influencers and professionals are using to gain
thousands of followers every month
and
hundreds of thousands of dollars per year
on Facebook.
My name's Nik Swami and I'm an entrepreneur with a collection of online businesses that each generate up to
$45,000 per month
through Facebook and social media, and my courses have reached over
23,000 people in over 150 countries
.
So what are my 10 Facebook marketing strategies? You'll be getting live on-screen video demonstrations for each of them throughout this course:
Facebook Marketing 1: You'll learn how to supercharge your Facebook page so that you're ready for explosive growth
Facebook Marketing 2: You'll learn how to post powerful content, so that you build a really engaged audience on Facebook, and get the results you want
Facebook Marketing 3: You'll learn how to achieve more with influencers, including how to find them, assess their quality, contact them, and launch Facebook promotions
Facebook Marketing 4: You'll learn how to grow smarter with shoutouts, which are partnerships that allow you to access different audiences on Facebook
Facebook Marketing 5: You'll learn how to get discovered with features, which allow you to get massive amounts of growth on Facebook absolutely free!
Facebook Marketing 6: You'll learn how to do authentic engagement hacking, which can get you crowds of new followers, leads and sales on Facebook very quickly
Facebook Marketing 7: You'll learn how to launch competitions that go viral, and they can grow so fast on Facebook it's actually insane
Facebook Marketing 8: You'll learn how to leverage Facebook groups, which are incredibly powerful for learning, building relationships and promoting yourself
Facebook Marketing 9: You'll learn how to gain huge results With Facebook Ads, and I'll be taking you through one of my Facebook Ads accounts that has made over $820,000
Facebook Marketing 10: You'll learn how to maximize the network effect, which will not only give you better results on Facebook today, but it will also power your growth long into the future.
So, if you're an entrepreneur, an influencer, a professional or any type of organization that wants to absolutely crush it on Facebook, then this Facebook marketing course is for you.
Everyone who enrolls in this Facebook marketing course will also be able to ask me questions via Udemy, email and Instagram, so you'll be fully supported.
See you on the other side!
All the best,
Nik
Who this course is for:
Entrepreneurs, influencers, professionals, organisations and anyone who wants to crush it on Facebook!
The Facebook marketing strategies covered are perfectly suitable for both beginners and experts. I started using all of them when I was a beginner, and I still use all of them now that I'm an expert.