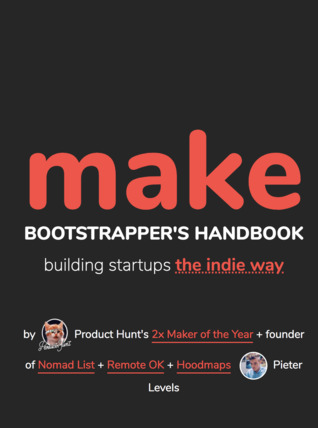 THE INDIE MAKER HANDBOOK​
learn to build profitable startups the indie way​
[Version 2023-09-12]

​
Available Formats:​
Why did I write a book?​
I never wanted to write a book. I have to be honest to say I hardly read books myself. I think it takes a certain amount of hubris to put your thoughts in 200 pages and think you actually know something well enough that you should share it with people. But then all of you started buying it, so hey, let's do this!
I think it's stupid to read lots of books about doing something (in this case startups) and then believe you're actually learning something from it. Because most successful people I know learned mostly everything they know from practice. Just by doing things.
Books are also outdated by definition. The moment I write this sentence and you read it (weeks, months or years later), I might have already changed my mind.
Then there's the entire survivorship bias, it assumes that what worked for me will work for you. But it probably won't. Because time has already changed and I will never be able to put on to paper all the variables that have attributed to things than went successful for me. I really don't like to give people false promises. Which is what most other books do. No, this book won't make you successful. That's all up to you.
But I do want to write a book​
Even with all these things stacked against writing a book.
I want to write a book, if only because I see so much bullshit going around in the world of startups and tech. The media is presenting startups in the wrong way. People think they need to build billion dollar companies. They need to fly to San Francisco and build a "network" and get $10 million dollar investment from old rich guys. They need to hire 10x power developers and work them for 100-hour work weeks while feeding them pizza and soda. It will be great, they said.
But it won't. It'll probably suck. And you probably won't get rich. Because the odds of a venture capital (VC) funded startup are
by definition
stacked against you. Only 10% or less exit and that doesn't even tell you if the founders make good money. There's giant company exits where the founders barely made money. That's why I'm writing this. To show you, you might be able to do it differently.
The indie way of building a startup​
What's the alternative? How about this: do things yourself and build a nice side project, that then can maybe turn into a bigger project, that then maybe becomes a company that makes you enough money to quit your day job and stop working for the man. Enough money to build up good savings, that if you invest well, will give you a nice early retirement. Your own company that can give you a little more freedom in your daily life, so you can spend it with friends, your family, your pets or just doing the things you love. Which in the best case is actually building an app, project, startup or company you love to work at/on/for!
I want to make bootstrapping great (again) #MBGA​
This way of building a company is called "bootstrapped". Which means you're self-funded. You use the resources you have to get started. The odds of building a successful bootstrapped business are way higher than building a venture funded billion dollar company. Because the goal of a bootstrapped business is much more reachable. You don't need to do a billion dollars in revenue. You're already there if you can pay yourself enough to live from. Any money that comes extra is even better! You'll probably have less stress, be happier and be therefore a better friend, lover, partner or parent. Just....relax.
The coolest thing about bootstrapping it is that it doesn't exclude "going big" later. Venture capital investors LOVE to invest in companies that already have proven revenue. And that's literally what a bootstrapped business is. You'll be miles further than the person next to you pitching with just a PowerPoint deck. When you go for millions of dollars of VC investment on day one, it means you do exclude building a healthy simple business. Your company is now strapped to a rocket and you need to go big or explode. That's why I think bootstrapping is the better way to build a business now.
I really, truly, honestly want to see the mainstream startup narrative change into one where bootstrapping, revenue and actual profit is "cool". Writing a book on it with a proven framework people can apply, may help accelerate this change.
There's a personal legacy aspect here: if I can have a small influence in changing this, it feels good as a person. It's nice to change things for the better. And if it doesn't, well, thousands of people paid me money for this book, so it's a nice backup for me in case I go bankrupt.
Why should you listen to me?​
Because I went from really scrappy side project to profitable company with users a few times now. Most times it failed miserably, but a few times it worked out for me.
At time of writing, my website Remote OK just became the most visited remote jobs board in the world with 3 million monthly visits. Nomad List is near that amount too, and ushered in a new era of digital nomads and remote work from 2014 onward. They're both manually built by me, profitable with high margins (up to 95%), and highly automated. I was Product Hunt's Maker of the Year twice. I've launched my startups to Reddit's front page twice. I grew one of my projects into $100,000+/month revenue, then $200,000+/month revenue and together now to over $3,000,000/year, while blogging and tweeting about all the personal ups and (lots of) downs for the past years. I launched Rebase last year which went from $0 to $50,000/month in 30 days. I recently launched Avatar AI which went from $0 to $100,000 in 10 days! My projects together are now valued at anywhere from $10 million to $40 million depending on what the market would pay for it. And I did it mostly by myself. Most of my other projects failed (some miserably), but I was able to get an idea to success a few times.
There is a good chance that there is strong survivorship bias at work here though. Remember that. The people who try and fail don't write books how they failed. That means my entire perspective is probably biased and skewed. You've been warned.
This book is my entire brain dump​
I've been getting thousands of questions the last few years. I think if I started answering them I'd simply not get to working on my own projects anymore. That's why this book is the easiest knowledge transfer from me to you.
Literally every single thing I learned in the last few years building bootstrapped startups is in this book. It's my entire brain dumped on paper. It can be messy but it's everything I know. I hope it'll be something like giving back to the community and people will use it as guide in becoming indie makers and ship products. I've seen the drafts of this book already applied in hundreds of launched startups (because people will usually send me a message), which is super awesome. I'd love to see more. Having some positive influence on people's lives is a lot more interesting to me than more revenue, at this point.
This book is continuously updated​
I'll be working on this book just like any of my startups. It's a continuous project. I'll keep updating when I learn new things.
App, site, product, startup, business​
You'll see these terms in the book used somewhat like synonyms. Because most of the theory in this book applies to all of these. Sites these days are like web apps, and apps are more like sites, together they are products and a few of these products make up a startup which in turn is a business. Generally, they're all the same thing.
You'll need persistence, and luck​
You may need to try shipping 10 to 30 products for 1 to 3 years before you have anything that works. That's how this approach works. You build stuff and see what sticks. I don't know anybody who shipped one product and instantly became successful. It takes a long time to "get" it and even then it's a lot of luck and timing. If something doesn't seem to take off early on, it probably won't take off later, so make something new and try again.
As I, and this book practice radical honesty, there's a chance nothing you make will be successful. But by doing you'll have figured something new out, that might lead you to somewhere else, that will make you successful. Startups, and life, are about constantly pivoting when things don't work out. If you don't take action though, you can be sure nothing will ever happen. Stagnancy kills. So ship.
Always keep shipping.
Practice​
I want you to learn from actually shipping a product. This book is just ideas that might be wrong or right, and biased, but your own personal practical experience will be the thing (if anything) making you successful. Not this book! This book is just me pushing you to go sit on the bicycle. Now learn to ride it yourself. Practice is everything. Get your own style. And most importantly, ship.